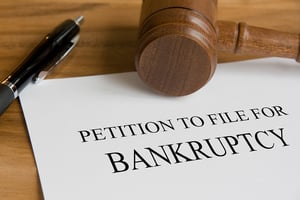 Businesses continue to be challenged by COVID-19 and the supply-chain inflation that has ensued.
Almost a year ago, we discussed the hard-hit business sector struggling with pandemic shutdown. Lockdowns that swept the globe in March 2020 were largely still in place by the end of that year. Large and small businesses with minimal or no cash reserves were hard-hit. By the end of 2020, corporate bankruptcy was at a 10-year high.
In year two of the pandemic, unforeseen supply-side pressures have shuttered industry, forced manufacturers to slash expectations, and pushed businesses of all sizes into creative arrangements to hold off business closure.
Goldman Sachs recently released data from a small business survey conducted by Babson College and David Binder Research. The survey reached 1,145 respondents from 48 states. For most, the landscape is grim. Consider these points:
Forty-four percent of small business owners have financial reserves of less than three months.

Debt acquired to maintain solvency is a concern for business owners and operators. Forty-one percent are concerned about the debt load they will carry when recovery really arrives.
Slim margins and high debt load mean business resiliency is strained. While vaccines were largely seen to be personal and economic liberators, the challenges of the natural world—adaptive viruses—mean unexpected shutdowns and business slowdowns could continue to push companies out of business.
Even as some businesses are going dark, others are reconsidering their previous stance on bankruptcy. For those with few assets and a business model unlikely to regain its bottom line, Chapter 7—liquidation—may be a logical choice.
For companies struggling with reserves, loans, and contract terms negotiated before the pandemic, reorganization through Chapter 11 bankruptcy pushes pause on collection efforts. The Chapter 11 bankruptcy process pulls in a bankruptcy trustee and in most cases allows you to develop a restructuring plan with the ability to revisit unprofitable business arrangements that are sinking your efforts to step forward in these economically and otherwise challenging times.
If considering any form of bankruptcy, work with a law firm willing to look carefully at your business and advise you on the circumstances of the options before you. It is possible the Bankruptcy Code has the cards to deal you back into the game.
Experienced tax and bankruptcy attorneys offer seasoned counsel on business strategy
For business owners challenged by the pandemic, bankruptcy could be an option. The legal team at Robert J. Fedor, Esq, LLC, provides strong representation on matters of business bankruptcy, IRS audits, and tax controversy. From offices in Chicago and Cleveland, our tax lawyers serve clients domestically and abroad. Call us at 800-579-0997.