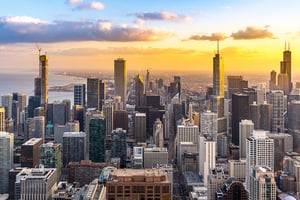 The Internal Revenue Service (IRS) is ubiquitous. As a constellating force on Tax Day and an omnipresent regulatory enforcer, the IRS truly is nationwide—with boots on the ground in more than 20 regional offices across the country.
While the headquarters of the IRS are in Washington, DC, a majority of the IRS Criminal Investigation (IRS-CI) matters are handled by agents posted in offices in the western, northern, and southern United States.
In each sector, field offices investigate civil and criminal tax matters, tax fraud, and work to enforce compliance. The northern sector includes field offices in Chicago, Detroit, Cincinnati, Boston, New York, Newark, and Philadelphia.
In Chicago, the IRS regional office is in the in the Kluczynski federal building, in the heart of downtown. The office covers seven judicial districts with territory in Indiana, Illinois, Minnesota, and Wisconsin.
The office also houses one of the biggest working groups in the country. Sixteen groups of IRS agents plus professional staff work out of the office. Like other regional offices, the agents investigate financial and tax crime relative to local industry and interests. In addition, the office participates in a number of task forces, and larger, systemic investigations involving money laundering, political corruption, cyber and drug crimes while partnering with other local and federal agencies. The office has also identified and pursued those involved in fraud involving Covid-19.
Just some of the matters handled through the office in the last two years include:
Money laundering: Xainbing Gan, a Chinese National, coordinated a large money laundering network from a residence in Guadalajara, Mexico. Narcotics money flowed into Chicago where it was distributed to bank accounts in China. Ultimately, the money made its way to Mexican drug traffickers. Mr. Gan is spending the next 14 years in prison.
Failure to file: An Indiana personal injury attorney, Raymond Gupta, was ordered to pay $1.7 million plus fines for tax evasion and neglecting to file federal returns between 2007 and 2018. Mr. Gupta was sentenced to two years in prison.
Bookmaking and tax crime: Illegal sports booking and filing a

fraudulent tax return

earned Dominic Poeta of Illinois a year in prison plus fines and restitution.
While IRS field offices are strategically located throughout the U.S., the agency also partners with foreign law enforcement and tax agencies around the world. In a world where physical or digital currency can appear and disappear in an instant, the IRS aims to follow the money wherever it goes.
Speak with experienced tax defense lawyers when you are challenged with a tax controversy
The tax group at Robert J. Fedor, Esq., LLC represents business and individual clients responding to civil or IRS tax audit, offshore tax allegations, or employment tax disputes. When strategic and straightforward tax advice is needed locally or internationally, call 800-579-0997 or contact us for a free consultation. We have offices in Cleveland and Chicago.