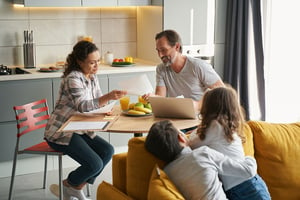 One of the most common elements of a fraudulent income tax return is a claim for unqualified dependents. So—who can you claim?
There are important tax benefits available for taxpayers who support dependents. Although the benefits have changed in the past few years, you may be eligible for tax breaks related to children, child care, and tax credits that reduce your tax liability. In addition, there is a higher standard deduction for the head of the household status. The benefits of listing dependents on your income tax return make it worthwhile to understand if the people living with you qualify.
To determine if the family member, relative, or friend living with you meets the criteria for a dependent, the IRS poses questions to determine if a child or a relative is a qualified dependent. Some of those questions involve:
Joint tax returns? If an individual you wish to name as a qualified dependent files a joint tax return with someone else (such as a married adult child who lives with you), you cannot claim them on your return. The same prohibition applies if the adult child provides more than half of their own financial support during a year.
Residency and ages: A child must live in your household for more than half of the year. A child must also be under 19. A child under 24 who attends school for at least five months qualifies as does a child of any age who is permanently and totally disabled. Any qualified dependent must be a U.S. citizen, national, resident alien, or resident of Mexico or Canada.
Degrees of separation: A qualifying child must be a brother, sister, child (offspring of your child), or an adopted or foster child.
Income: To be a qualifying relative, a person must not be a dependent to another taxpayer or your qualified child and must earn less than $4,400 in 2022.
Support: An individual who is not a blood relative must live for a year in your household. As well, you must provide more than half of their financial support on an annual basis.
If the circumstances fit, you can claim a parent or grandparent as a dependent—or a qualifying non-relative who is financially reliant upon you and is a member of your household.
If you have questions about the qualification of your dependents, talk with an experienced tax attorney for help. It is worth knowing who you can claim and understanding the tax credits that are currently available to you. Just as important, it is critical to understand that fabricating dependents on your return can quickly backfire into tax fraud, penalties, and even an IRS criminal tax investigation.
Skilled tax lawyers help you with tax controversy, compliance, and criminal tax matters
The legal team at Robert J. Fedor, Esq., LLC delivers experienced legal representation to clients throughout the U.S. and abroad on matters of tax crime, bankruptcy, or IRS criminal or civil audits. When you have tax questions, call us at 800-579-0997 or contact us. We have offices in Cleveland and Chicago.