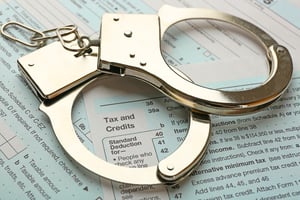 A San Francisco area CPA was convicted, along with his client, of tax crimes related to the failure to report income for a period of four years, resulting in no income taxes being assessed for this same period. Now, they are both facing steep penalties for their actions.
From the Department of Justice press release:
According to the evidence presented at trial, Marc Howard Berger, 67, of Walnut Creek, California, willfully assisted in the preparation of three false Form 1040s for G. Steven Burrill for the years 2011, 2012, and 2013. The guilty verdict followed a three-week jury trial before the Honorable Richard Seeborg, U.S. District Court Judge.
Berger was a CPA and partner with a regional tax preparation firm, Burr Pilger Mayer. Berger's client, Burrill, was the owner and CEO of Burrill & Company, Burrill Capital, and several related entities. Through the entities, Burrill managed venture capital funds, including Burrill Life Sciences Capital Fund III, L.P. (the Fund), a $283 million investment fund focused on the life sciences industry. Between December 2007 and September 2013, Burrill transferred more than $18 million from the Fund to his management companies in excess of the management fees that were allowable under the agreements that governed the Fund. Berger intentionally prepared and filed false income tax returns for Burrill that did not report more than $18 million in income, resulting in unpaid taxes of more than $4.7 million. With Berger's assistance, Burrill paid no individual income taxes for the years 2009 through 2013.
"The jury's verdict should serve as a message to all professionals who assist their clients in evading their tax obligations that such assistance will be prosecuted," said Principal Deputy Assistant Attorney General Richard E. Zuckerman.
"We are gratified by the jury's verdict," said Acting United States Attorney Alex G. Tse. "Tax preparers must know that they cannot willfully assist clients in defrauding the IRS and failing to pay their fair share."
Berger and Burrill were both indicted by a federal grand jury on September 14, 2017. Berger was charged with three counts of aiding and assisting in the preparation of a false tax return. Berger's sentencing hearing has not yet been scheduled. Berger faces a maximum statutory penalty of three years in prison for each count.
Burrill pleaded guilty on December 7, 2017 to one count of investment-adviser fraud and one count of tax evasion. Burrill's sentencing is scheduled for September 25, 2018. He faces a maximum penalty of five years in prison for investment-adviser fraud and five years in prison for tax evasion.
Berger and Burrill also face a period of supervised release, restitution, and monetary penalties.
If you are accused of tax evasion, contact a skilled tax attorney.
A visit from the IRS could lead to criminal charges. Nationwide tax law firms offering to resolve serious problems with the IRS can do little to help. An experienced attorney at a law firm that focuses exclusively on tax law and helping clients get out of trouble with the IRS is vital.
The attorneys at Robert J. Fedor, Esq., L.L.C. fight hard on to prevent criminal charges for individuals and businesses nationwide. They also aggressively protect rights and fight for the best outcome if a client is indicted.