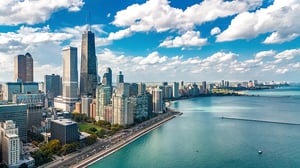 A Chicago businessman complained his property was over-assessed. The law firm hired by the businessman pushed the case. Eventually, the state agency voted to reduce the assessment and give a tax refund to the businessman. And so, the wheels of commercial taxation turn.
But the devil is always in the details. The business owner is Donald J. Trump. The property valuation in question is the Trump International Hotel and Tower. The tax attorney promoted the interests of Mr. Trump is Ald. Edward Burke, whose law firm long represented Mr. Trump. Mr. Burke has since been indicted by a federal grand jury for obstructing the permitting process for businesses that did not hire his law firm. No longer with Klafter & Burke, Mr. Burke is currently awaiting trial—while remaining on the Chicago City Council. There's more, but you get the idea.
The tax controversy over the value of the hotel and tower is one item in a years-long tax dispute over taxes owed. In that time, Mr. Burke and others have worked diligently to provide Mr. Trump approximately $14 million in tax breaks since 2011.
Initially, a hearing officer for the state rejected Mr. Trump's claim that that the chronic vacancy rate of the stores built into the property lowered the value of the property. The idea is build a luxe building, fail to lease it, enjoy the lower value of the property and the tax write-off. Following the rejection of the argument, a state tax agency employee then wrote a report supporting the valuation offered by Mr. Trump. That report, and the request to lower the assessment, was approved by the Illinois Property Tax Appeal Board.
All of this means that Mr. Trump is able to obtain a $1.03 million refund for all that unused space. But before the payout, the Cook County State's Attorney recently filed a lawsuit with the Illinois Appellate Court to block the refund. According to the Sun-Times, refund will come out of property taxes earmarked for eight governmental agencies and the city of Chicago. About $540,000 of refund will come out of funds intended for Chicago Public Schools.
The battle over the valuation of the property is likely to go on for some time. Will the money go to Mr. Trump or Chicago Public Schools? It's anyone's guess.
Have you been contacted by the IRS or the Illinois state tax agency? We can help.
The tax group at Robert J. Fedor, Esq. is a well-respected team dedicated to helping business owners and individuals who face allegations of tax fraud, offshore tax discrepancies, or tax crime. Understanding your options and gaining seasoned guidance from an experienced tax attorney is critical to navigating federal and state tax systems. From offices in Cleveland and Chicago, we work with clients locally and abroad. Call 800-579-0997 or contact us for a free consultation.