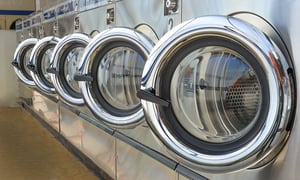 Caught up in a lengthy investigation, Deutsche Bank is bracing for ongoing tax litigation over its role in a global money-laundering scam known as the "Russian Laundromat."
Once considered the neighborhood spot to do your wash, the word "Laundromat" is now a specialized term that refers to a well-organized system that cleans, organizes, and transfers dirty money for fraudsters and criminals.
Investigation into the Russian Laundromat resulted from the leak of documentation on 1.3 million transactions involving 238,000 businesses. As explained through the investigative journalism site Organized Crime and Corruption Reporting Project (OCCRP), the purpose of the Russian Laundromat was straightforward. The Laundromat transferred billions of dollars out of Russia and made the wealth accessible to Russian oligarchs and other corrupt individuals to acquire real estate, transfer to offshore tax havens, or support extravagant lifestyles.
The Russian Laundromat made use of countries and institutions around the world, including:
International banks like Standard Chartered, Deutsche Bank, and Barclays
Asian financial groups
United Kingdom and territories including the Royal Bank of Scotland and HSBC among many others
US entities like JP Morgan, Wells Fargo, and Citibank
As the investigation begins to catch up to these financial institutions, fortunes and fates begin to suffer. Bloomberg outlines the troubles facing Deutsche bank, including marketing bad securities, tax fraud, money laundering and involvement of senior personnel in the Russian Laundromat.
At least part of the scam in the EU called for creation of shell companies to take on debt which was transferred between shell companies. The loans went into default and corrupt judiciary streamlined the transfer of the debt to institutions in the Baltic countries.
For Deutsche, these revelations add to other ongoing tax controversies related to the Panama Papers and associated money laundering allegations. Deutsche Bank has also recently been subpoenaed by US authorities due to $2 billion in loans made to American President Donald Trump in 2008. After defaulting on the loans, Mr. Trump sued the bank, which then loaned Mr. Trump another $300 million.
Deutsche Bank has already paid millions in fines to settle earlier tax crime charges. The Russian Laundromat provides a fresh look at the problems and penalties possible for individuals and corporate interests caught up in opaque offshore tax dealings.
Skilled tax defense if you face an IRS criminal tax investigation
The tax attorneys at Robert J. Fedor, Esq., LLC provide experienced legal representation if you are involved in a tax controversy or questioned about your foreign holdings. With offices in Chicago and Cleveland, we serve local and international clients. Call 800-579-0997 or contact us today.