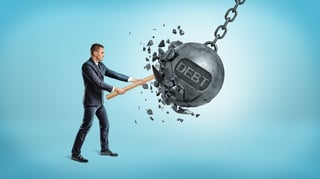 When people file for bankruptcy, they are looking for a way to get their debts under control and make a fresh start. These debts often include unpaid medical bills, credit card statements, mortgages or car loans. Generally, the money you owe the government is not discharged, but under certain circumstances, you may be able to get your taxes discharged in bankruptcy.
Types of Personal Bankruptcies
There are two types of bankruptcies that individuals most commonly file: Chapter 7 and Chapter 13. In a Chapter 7 bankruptcy, you are appointed a bankruptcy trustee who will gather and sell your assets to pay off your secured debts. The remaining unsecured debts are discharged. In a Chapter 13 bankruptcy, instead of having most of your debt discharged, you develop a repayment plan that you can afford. Under the repayment plan, you will pay off your debts within 3-5 years.
Can My Taxes Be Discharged?
Per the U.S. Bankruptcy Code, you may be able to discharge some of your taxes, as long as you meet all the following criteria:
You wish to discharge income taxes.
The debt is at least three years old. It must be at least three years old at the time you file for bankruptcy.
You filed a tax return for the debt at least two years prior to filing for bankruptcy.
The IRS assessed your tax debt at least 240 days prior to your filing for bankruptcy.
You have not been found guilty of tax evasion.
What You Cannot Discharge
You are unable to discharge:
Employment taxes
Taxes from a fraudulent return
Penalties assessed by the IRS
Federal tax liens
Taxes from a return that you failed to file
Talk to A Tax Attorney about Your Case
If you are considering filing for bankruptcy to eliminate your tax debt, you may want to speak to a tax attorney first. The experienced tax attorneys at Robert J. Fedor Esq., LLC can look over your case and help you figure out if your tax debts qualify for a bankruptcy discharge. We have offices in Chicago and Cleveland, but we've helped people across the United States get the tax help they need. Contact us today.