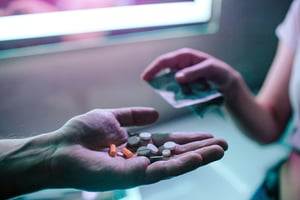 A Brooklyn pharmacist was arrested and arraigned recently for his involvement in a drug diversion network involving illicit sale of the opioid oxycodone.
The opioid epidemic shaking the United States is fueled in part by drug diversion schemes—networks of two or more people, often at varying levels of the drug supply chain, working in concert to move opioids onto the street for profit. According to the US Office of Inspector General, drug diversion—and the investigation of the crime—is on the rise. On the street, a bottle of 30 mg oxycodone can sell for up to 12 times its normal pharmaceutical cost. That is big money for drug traffickers. And where there is big money, there is usually a tax controversy.
Drug crimes and criminal tax matters are common bedfellows. It is not often that money earned through illegal schemes is reported on an income tax return. As a result, false tax returns or failure to file a tax return boosts the consequences when an indictment is unsealed and an individual is prosecuted. Such is the case with Daniel Russo, the Far Rockaway pharmacist who faces a sheaf of charges including conspiracy, distribution, and possession of oxycodone.
The arrest of Mr. Russo on 12-counts apparently follows the conviction of at least a dozen physicians who used Mr. Russo to fill fake prescriptions over the span of several years. As you might have guessed, charges against Mr. Russo include filing fraudulent tax returns by underreporting his own gains from the conspiracy. The Department of Justice (DOJ) notes Mr. Russo earned a cool $1 million that was not reported to the IRS.
In remarks, US Attorney Richard Donoghue noted, "We can count the hundreds of thousands of dollars Russo allegedly pocketed from the charged scheme, but the resulting human misery in our communities is incalculable. This office will continue working with federal and local law enforcement partners to investigate and prosecute medical professionals who seek to profit from the opioid epidemic."
The drug charges alone could lead to a prison term of 20 years for Mr. Russo. Conviction on each alleged tax charge could add three years to his sentence. At this point, going forward is the only available route for Mr. Russo, who is currently free on bond. If you believe you are under surveillance or being investigated for a tax crime, it pays to speak with an experienced criminal tax attorney sooner than later.
Skilled criminal tax defense in Chicago and Cleveland
The legal team at Robert J. Fedor, Esq., LLC delivers experienced legal representation if you or your company are facing questions about a tax audit, payroll tax issue, or other issue. Contact us or call 800-579-0997 today.