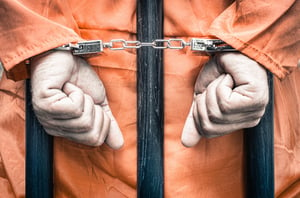 Boo Boo made a boo-boo. A fraudster with the handle "Boo Boo" is heading to prison for 30 years on multiple counts of tax fraud, identity theft, and federal tax crimes.
In what can only be seen as a "go big or go home" mandate, Alabama resident, William Anthony Gosha masterminded a large identity-theft ring for three years from 2010 to 2013.
Working with co-conspirators, Boo Boo filed more than 8,800 fraudulent tax returns that ultimately netted Mr. Gosha and his friends approximately $9 million.
The scam went something like this:
In 2010, Mr. Gosha managed to steal the identification of inmates at the Alabama Department of Corrections. He then gave the information to a co-conspirator who used the information to file false tax returns in exchange for splitting the refund proceeds.
Boo Boo also managed to obtain identity data from employment records stolen from a business in Columbus, Georgia, to file more false income tax returns.
By 2012, Boo Boo's co-conspirator recruited another member to the gang. The new co-conspirator had access to identity data from the Department of Public Health and the Department of Human Resources in Opelika, Alabama. She focused on harvesting identity data of teenagers to fuel the expanding fake tax return efforts of the group.
Boo Boo then recruited an additional helper who had access to identity data from Fort Benning, Georgia. The gang then stole data from service members deployed to Afghanistan to file more false tax returns.
By acquiring fake Electronic Filing Identification Numbers (EFINs), the group filed returns with the IRS and was able to obtain blank checks from banks to print refund checks under the guise of being legitimate tax preparers.
When the banks refused to provide more blank checks, Boo Boo brought in US Postal employees by agreeing to split their ill-gotten gains. The postal carriers provided addresses where the IRS refund checks could be mailed, and the carriers would intercept the checks upon arrival.
From targeting teens and active duty members, to pinching identity data from inmates and the Department of Health—Boo Boo stopped at nothing—until he was arrested. With such a widespread, flagrant method of operation, it is unclear by what means Mr. Gosha believed that he would evade the long arm of the law.
For his efforts, Boo Boo was sentenced to 30 years of prison, plus three years probation, and more than $9 million in restitution. As for his merry gang of helpers, 30 have already been sentenced, with his initial two co-conspirators receiving prison sentences of 15 and 13 years, respectively.
While Mr. Gosha could be considered successful in his aims—he enjoyed no lasting benefit. He has decades of life ahead in prison to consider how he might have done things differently. If you are aware of discrepancies in your operation that could lead to criminal tax litigation, speak with a reputable tax attorney with experience in tax defense. It is better to meet the legal challenge when you can, before it identifies itself on your doorstep.
Experienced legal defense with IRS criminal tax investigations
With offices in Cleveland and Chicago, Robert J. Fedor Esq., LLC is a skilled tax firm handling criminal tax matters, IRS audits, tax litigation, and offshore tax issues. Locally or globally, when you need strategic, confidential solutions, we can help. Call us at 800-579-0997 or contact us today.