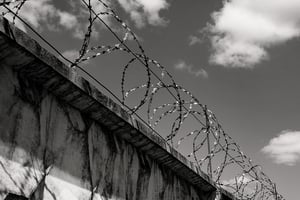 Longtime television personalities Todd and Julie Chrisley began the next chapter in their lives—apart and behind bars—after conviction on tax and financial fraud. The prosecution of the couple made the top ten list of IRS:CI for 2022, likely for the audacity of their tax crimes and the length of their prison terms.
As stars of the reality television series, Chrisley Knows Best, Mr. and Mrs. Chrisley headed up a wealthy Atlanta family purportedly supported by the real estate dealings of Mr. Chrisley. Premiering in 2014, the show documented the ups and downs of family life until an IRS criminal tax investigation and the FBI closed in on the couple.
The long, strange story of the tax fraud committed by the Chrisleys is a cautionary tale of people making decisions at odds with the realities of their situation. Before the couple began to earn millions on their television show, the couple defrauded Atlanta banks by taking out in excess of $36 million in loans. The loans were obtained from area banks through falsified statements and other documents. New loans were obtained to pay back old loans and the couple enjoyed a luxury lifestyle with all the trappings of wealth, including cars, real estate, travel, and more. When the money ran out and loans were no longer forthcoming, Mr. Chrisley used bankruptcy to wipe out more than $20 million in debt.
With their television show, the Chrisleys earned millions. Rather than turn a page on their past, the Chrisleys failed to file tax returns and pay their tax liabilities from 2013 through 2016. The Chrisleys again filed false financial statements and transferred money between accounts to conceal their tax evasion even after the IRS had requested information on the accounts.
Of their exploits, a U.S. Attorney familiar with the matter said, "Over the course of a decade, the defendants defrauded banks out of tens of millions of dollars while evading payment of their federal income taxes. Their lengthy sentences reflect the magnitude of their criminal scheme and should serve as a warning to others tempted to exploit our nation's community banking system for unlawful personal gain."
The couple and their accountant were convicted on all counts of bank and wire fraud, tax evasion, and obstruction of justice. The accountant is serving three years in prison while Julie Chrisley is serving seven years in prison. Todd Chrisley earned 12 years in prison.
Chrisley Knows Best? Maybe not so much.
Worried about an arrest for tax fraud? Contact us today
The tax group at Robert J. Fedor, Esq., LLC responds quickly and strategically if you face potential arrest. If the IRS wants to speak with you about criminal audit results or failure to file tax returns—we can help. We represent local and international clients from offices in Chicago and Cleveland. Call 800-579-0997 or reach out to us today.