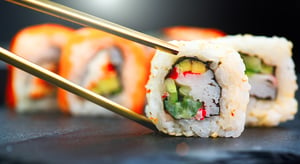 What started out as a fish restaurant venture turned into a whopper of a federal criminal tax investigation, leaving the owners in hot water—and facing up to five years in prison.
Man Kim and his wife Kyong Kim, both of Dublin, California own three sushi boat restaurants in the San Francisco Bay area, Sushi Boat Valley Fair, Sushi Boat Westgate, and Sushi Boat Oakridge.
Like a number of small or large business owners, the Kims' avoided recording their accurate sales, often paying employee wages in cash to avoid creating records for state and federal taxes. The couple provided their accountant with records from their corporate bank account, instead of their actual sales in order to cover up diverted income.
Failure to file accurate income taxes, diversion of income, and payroll tax issues are serious charges. These types of schemes are common. Many business owners face financial pressure, personal challenges, or are otherwise tempted to better their circumstances through illegal means. Tax litigation is sometimes the result if an owner does not work out arrears with the Internal Revenue Service (IRS) prior to being charged.
Unfortunately for this couple, they increased their legal vulnerability even after they knew they were the subject of an IRS criminal tax investigation. When the IRS approached Mr. and Mrs. Kim, they both indicated there were no records that detailed the daily income from their sushi restaurants. Following questioning, Mrs. Kim then hired a consultant to delete the information from the computer system used in their restaurants. The activity added a charge of conspiracy to defraud the United States to their roster of criminal tax crimes.
The couple was indicted by a grand jury in July, 2017. In March of 2019, both individuals pled guilty to a tax and employment tax scam that created a $1.2 million loss to the US government. While sentencing is scheduled for July, 2018, the presence of a plea deal means the Kims' will likely spend less time in prison than if they had refused to work with the government. The maximum penalty for the conspiracy charge to which they pled is five years in prison and a $250,000 fine plus restitution.
If you find yourself, or your business, on the wrong side of tax law, speak with an experienced tax attorney who can confidentially work to keep you from being charged—or to try and mitigate potential penalties.
Chicago tax lawyers deliver knowledgeable help with civil and criminal tax matters
Serving international and local clients from offices in Chicago, and Cleveland, Illinois, the legal team at Robert J. Fedor, Esq., LLC is highly experienced with tax law. We provide discrete legal service if you face a tax controversy. Contact us online or call us at 800-579-0997 today.