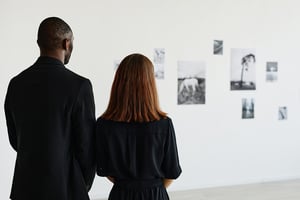 Tax crime comes in all shapes, sizes, and industry. Recently, a leading Portuguese business owner and prominent art collector was arrested after a criminal tax investigation.
The high-flying world of the ultra-wealthy includes those with a taste for fine things—including priceless works of art. While beauty is in the eye of the beholder, for many it is carefully packed in wooden crates and stored in highly secure, temperature-controlled environments located in free ports situated in tax-free regions of the world.
Recently purchased art may travel the world, shifting from region to region in those same wooden boxes in the interest of tax deductions and mobile asset management—a bit like an offshore tax haven with its preferential tax rates on money passing through. Still other such "tax boxes" are completely empty, moving across the landscape to take advantage of deductions while the actual art is safely stashed elsewhere.
Some wealthy individuals, like Joe Berardo, found museums in which to hang their fabulous collections. The Museu Colecao Berardo is a Contemporary and Modern Art Museum in Lisbon and houses some of the art of Mr. Berardo. Unfortunately, Mr. Berardo may have built his museum on false largesse cultivated through business connections with Portuguese lending institutions.
Since 2016, authorities have been investigating the tax controversy around loans provided to Mr. Berardo from Caixa Geral de Depositos (CGD) Portugal's largest (and state-owned) bank. A loosely structured "economic group" was the vehicle for Mr. Berardo obtaining loans from the bank. In late June, the investigation ran its natural course and Mr. Berardo and his attorney were arrested on charges of tax fraud, money laundering, and aggravated fraud."
Simultaneous with the arrest, law enforcement conducted extensive searches of private homes, banks, and offices in Funchail, Sesimbra, and Lisbon owned by Mr. Berardo. He apparently had loans with two other financial institutions as well.
Overall, it appears Mr. Berardo had a penchant for borrowing money without showing much intention of paying it back. Reuters reports the businessman received approximately $500 million from CGD between 2006 and 2009. He then "breached contracts and resorted to debt negotiation and restructuring mechanisms in order to avoid amortization." Taking into account his financial arrangement with the three banks, Mr. Berardo owed more than $1 billion.
Although Mr. Berardo tried to safeguard his artwork by placing it in trust, the 900-piece Museum art collection was seized as collateral by authorities in 2019. The Museum remains open and popular as a state-run institution and was named in 2020 as one of the hundred most visited museums in the world.
It is unclear how Mr. Berardo will deal himself out of jail and his imminent criminal tax litigation. Given that his attorney was arrested with him—finding a good criminal tax attorney would probably be a good first step.
Contacted by the IRS? Contact us for experienced legal advice
If you are facing offshore tax concerns or criminal tax charges in Ohio, our law team can help. Issues around business compliance and payroll tax issues can quickly impact your bottom line. Seek experienced help when allegations arise. Whether you are local to Cleveland or Chicago or have foreign tax interests, our tax lawyers at Robert J. Fedor, Esq., LLC can help. Call us today at 800-579-0997 or contact us online.