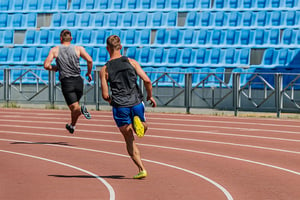 An athlete and businessman drew the number four spot on the IRS: CI list of top prosecutions of 2022.
An Angeleno with broad business interests, David Bunevacz has led a storied life—only partially due to his gold medal finish in the decathlon of the 1997 Southeast Asian (SEA) Games, where he participated for his mother's home country, the Philippines.
By 2010, Mr. Bunevacz was sued for allegedly selling $17 million in tickets for the 2010 Vancouver Winter Olympics that were never delivered to the reseller who purchased them. The civil matter eventually settled. By 2016, Mr. Bunevacz was charged in a nine-count felony complaint involving grand theft and unlawful securities transactions. He served a year in jail and three years of probation.
The work that made Mr. Bunevacz the focus of an IRS criminal investigation involved his companies, Caesarbrutus LLC and DB Holding Group Corp. An early adopter in the cannabis industry, Mr. Bunevacz offered investors a stake in the growing vape industry, by promoting products like pesticide-free CBD and THC oil. According to the IRS, Mr. Bunevacz raised more than $45 million in funds from investors.
Unfortunately, instead of growing out his business (while still on probation), Mr. Bunevacz financed his lifestyle with investor money. Mr. Bunevacz forged financial statements, purchase orders, and invoices while at the same time concealing his earlier felony conviction for securities fraud. In addition, Mr. Bunevacz registered shell companies, some with names similar to well-known 420 companies to boost investor interest. When an investor discovered a past legal settlement agreement, Mr. Bunevacz doctored an agreement to convince the investor that he had accepted—rather than paid—$325,000 in settlement monies.
Instead of vapes, Mr. Bunevacz took trips to Vegas, and purchased jewelry, real estate, apparel, and horses. Mr. Bunevacz stole $45,227,266 from more than 100 investors—some who faced financial hardship as a result. He pled guilty to securities and wire fraud, drawing a sentence of more than 17 years in prison and a fine of over $35 million dollars.
Prosecutors noted, "The sense of violation, the assault on personal dignity, and the lasting trauma [Bunevacz] has caused are very much reminiscent of the harm typically associated with violent crimes. And, with well over a hundred victims, [Bunevacz] caused these harms at a scale rarely seen."
Mr. Bunevacz made more than one career out of securities and tax crime. At 55-years old, Mr. Bunevacz is relying on federal public defenders to advance an appeal on his behalf. Barring a successful appeal, he will spend the next 17 years at Terminal Island—near LA—but a long way from his former life of glitz and grift.
Concerned about tax litigation or a potential IRS audit? We can help
The tax group at Robert J. Fedor, Esq., LLC offers strategic representation to individual and corporate clients in matters including offshore tax investigations, foreign bank accounts, and compliance issues. When experienced tax advice is needed, call 800-579-0997 or contact us for a free consultation. We have offices in Chicago and Cleveland.