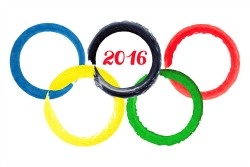 Accusations, insults and allegations are hurled back and forth between political parties during this heated election season. So it is nice to see politicians take a breather and pause, if only briefly, to agree on something.
Politicians from both major parties have expressed support for the recently revived idea of a tax exemption for the Olympic medals American athletes bring home. The recently concluded summer Olympics in Rio de Janeiro saw the U.S. team bring home more medals than any other nation, but news reports say the gold, silver and bronze could wind up costing athletes who are taxed by the Internal Revenue Service on foreign income.

Both Senators Chuck Schumer (Democrat of New York) and John Thune (South Dakota Republican) propose to have the winnings exempted from taxation. That means not only would Michael Phelps, Simone Biles and Allyson Felix see their tax bills reduced, but so would winning athletes participating in the Paralympics.

Athletes are currently paid by the U.S. Olympic Committee $25,000 per gold medal, $15,000 per silver and $10,000 for every bronze. The amounts are all subject to tax as foreign income.
The proposed legislation is aimed not so much at household names such as Phelps and Biles, but at the majority of more obscure American athletes who train and compete with scant financial support.

The issue appears to be one of the few on which Democrats and Republicans have some degree of agreement.

An experienced tax attorney can help you get into compliance if you have unreported income and holdings in foreign bank accounts. A skilled tax lawyer will be glad to confidentially discuss all other offshore tax issues as well.