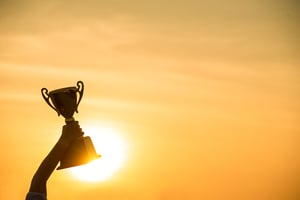 After counting down the top five IRS Criminal Investigation cases of 2020, we've reached number one. Contenders on the Top Five 2020 list so far included individuals and Big Finance. The number one pick is business of another kind and illustrates the global danger of tax fraud, money laundering, and foreign bank accounts used to fund global terrorism.
IRS Criminal Investigation and Justice Department aid in seizing terrorist cryptocurrency
In August 2020, the Department of Justice (DOJ) announced disruption of the fund-raising activities of three international terrorist organizations.
The three organizations, Islamic State of Iraq and the Levant (ISIS), al-Qassam Brigade, and the Hamas military unit, al-Qaeda, each developed social media campaigns to solicit funds for violent terrorist activities and campaigns. Because of the relatively private nature of cryptocurrency, each organization works to enrich their coffers by anonymous donations from around the world.
The DOJ details advertisements created by these organizations to drive donations. As well, during the height of the pandemic, ISIS worked through its agents to create websites to sell fake N95 masks to unsuspecting customers in the U.S. and around the world.
Acting Secretary of Homeland Security, Chad Wolf said, "After launching investigations that identified suspected online payments being funneled to and in support of terrorist networks, Homeland Security Investigations skillfully leveraged their cyber, financial, and trade investigative expertise to disrupt and dismantle cyber-criminal networks that sought to fund acts of terrorism against the United States and our allies. Together with our federal law enforcement partners, the Department will utilize every resource available to ensure that our Homeland is and remains secure."
Armed with forfeiture criminal complaints, CSI and its law enforcement partners seized more than 300 cryptocurrency accounts, four websites, and four Facebook pages associated with the terrorist endeavors.
Key to the enforcement action is the development of cyber-tools that allow law enforcement to match blockchain entries with cryptocurrency accounts. Absolute anonymity of cryptocurrency accounts is no longer guaranteed and allowed seizure of funds. More recently, the DOJ seized bitcoin worth approximately $2.3 million in June 2021 that had been paid by Colonial Pipeline Co. to hackers who ransomed their software platform.
Offshore tax havens, money laundering, and social media are important tools used to fund global terror groups. Although millions were seized from these groups, millions of dollars remain flowing into terrorist organizations. The more quickly enforcement agencies can develop and deploy tools and techniques to cut off the flow of money to those with violent intentions, the better.
While we have come to the end of the Top Five CSI cases of 2020, we will leave the Honorable Mention until next time.
Skilled Ohio tax lawyers help you through tax controversy and IRS criminal investigations
Robert J. Fedor, Esq., LLC provides seasoned representation and guidance to clients throughout the U.S. and abroad on matters of business compliance, bankruptcy, and civil or criminal tax audits. When you have tax questions or concerns, call us at 800-579-0997 or contact us.