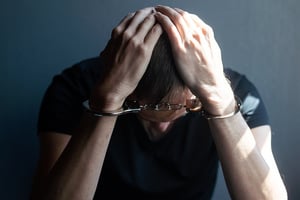 A California man on the run for two decades after conviction for tax fraud has been sentenced to prison.
Robin McPherson, originally of San Diego, and two of his crew were found guilty in December 2000 on charges of attempting to defraud the Internal Revenue Service (IRS) and avoiding $1 million in income taxes in the years 1993 and 1994. Mr. McPherson also ran an investment scheme in an internet shopping mall, transferring the proceeds to a Canadian bank account. Set for sentencing in March of 2021, Mr. McPherson went on the lam.
His trail grew cold until FBI agents were alerted to reports made by victims of a Costa Rican real estate development scam. Taking a closer look, the FBI found Mr. McPherson, alive and well, and using a broad set of social media tools to attract investors to a villa construction scam in Costa Rica. Mr. McPherson, residing in Costa Rica, personally called interested investors to explain the opportunity and field questions.
Investors were directed to wire funds to a bank account in Oregon, which were then wired to a bank account owned by Mr. McPherson in Costa Rica. The funds were purportedly being used to construct villas by the development company, Carara Parque Resort Corporation. Between December 2015 and late 2019, Mr. McPherson is estimated to have pulled in $1.2 million from his bank account in Oregon. The money was used to fund the lifestyle and purchases of Mr. McPherson in Costa Rica.
Of course, there was no construction company, and Mr. McPherson blamed delays and lack of construction on circumstances out of his control. Eventually, realizing they were scammed, investors reported the scam—which attracted the attention of the FBI and an IRS: CI criminal investigation.
By May of 2022, Mr. McPherson was named in a criminal complaint for money laundering and wire fraud. The FBI tracked him down in Costa Rica and he was returned to the U.S. In January of this year, Mr. McPherson pled guilty to charges pending in Oregon and California. In April 2023, Mr. McPherson was finally sentenced to more than five years in prison for the charges against him.
In addition to the prison time, Mr. McPherson will pay $4.7 million in restitution for his life's work. It is a long tale, with predictable turns—and predictable consequences. If you are running a tax fraud, speak with an experienced criminal tax attorney about your options—before you flee the country.
Work with skilled tax attorneys if facing IRS penalties or audit
Serving local and international clients from offices in Chicago and Cleveland, the tax group at Robert J. Fedor, Esq., LLC helps you respond strategically to questions from the IRS about your returns, foreign bank accounts, or other compliance issues. Call 800-579-0997 or contact us today.