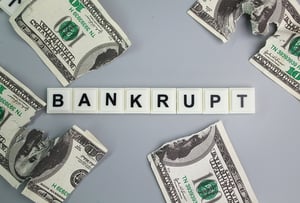 The drawn-out decline of Bed Bath & Beyond kept corporate bankruptcy in the news. But Bed Bath & Beyond is by no means alone.
According to S&P global, the number of corporate bankruptcies in the first four months of this year is the highest on record since 2010. There have been 236 corporate bankruptcy filings this year, and we are only in Q2. The overall number of corporate bankruptcies is growing as well as the size of the corporations seeking bankruptcy protection. In 2023, eight companies with liabilities over the $1 billion mark filed for bankruptcy. Filing Chapter 11 bankruptcy confers advantages including an automatic stay in collection proceedings while continuing to conduct business, a process by which unwieldy contracts and leases can be shed as part of a reorganization proceeding.
What this trend means for your business largely depends on your financial profile at present as well as your business model. Consumer discretionary companies are being hit harder as inflation necessarily causes people to evaluate their spending on basics including food, clothing, entertainment, and appliances.
Not surprisingly, companies doing poorly prior to the pandemic are those most likely to struggle now. Businesses overburdened with debt maintained some agility when interest rates were low. As inflation took hold and the Federal Reserve campaign to raise interest rates kicked in, borrowing has gotten significantly more expensive. Banking instability is leading to the reevaluation of lending strategies and many struggling companies have run out of fuel.
Just some of the bigger 2023 bankruptcies include Boxed, David's Bridal, Tuesday Morning, Party City, and Serta Simmons Bedding. Companies on the edge may seek mergers, acquisitions, or high-rate loans that will burden the balance sheet. In March alone, Moody's notes 15 rated debt issuers defaulted--the highest monthly tally since 2020.
The tide of companies looking to reorganize is not expected to peak soon. If the Fed continues to hike interest rates, and inflation hangs on, cost-cutting will continue, including layoffs and bankruptcy. Some experts suggest this cycle of business reorganization may not subside until mid-2024.
If your company is financially vulnerable, evaluate your options now. Talk with an experienced attorney about reorganization and other avenues to survive the current economic climate. If you reach the position where action is necessary—you can more comfortably navigate the terrain going forward in the best interests of your business.
Solid business advice when you are considering bankruptcy
The tax group at Robert J. Fedor, Esq., LLC helps you respond strategically to financial and tax concerns imposed by the current economic climate. We serve local and international clients from offices in Chicago and Cleveland. Call 800-579-0997 or reach out to us today.