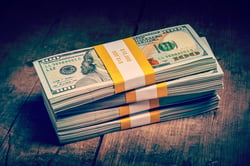 Some of our Cleveland readers might recall that three years ago the IRS trumpeted an expansion of its Fresh Start initiative. The agency said that by making its Offer In Compromise program more flexible, "some of the most financially distressed taxpayers" would be able "to clear up their tax problems."
Actor Wesley Snipes and his tax attorneys find nothing fresh in the latest offer from the IRS to resolve Snipes' long-standing tax problems. Forbes reports that earlier this year, the IRS appeared to be willing to accept about $6.4 million to settle the tax debt but has now sent word that the agency wants $18.1 million instead.
Forbes does not indicate why the most recent offer is dramatically larger than the offer reportedly extended in March. As you undoubtedly recall, Snipes served three years in federal prison after his conviction on charges of unfiled tax returns.
Released in 2012, he continues to try to resolve outstanding issues with the agency over taxes owed from 1999 through 2006. His attorneys had been negotiating with the IRS but bargaining apparently came to an abrupt halt when the latest figures were filed.
Snipes argues that the IRS isn't trying to compromise and is instead engaging in heavy-handed abuse of its discretion. He and his attorneys are asking the court to intervene and prod the IRS to more accurately estimate what it can reasonably collect from him.
Those facing difficult tax choices can discuss with experienced lawyers options including negotiations and litigation that can lead to favorable terms.