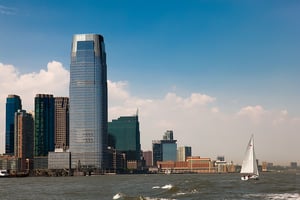 After politicians and profiteers sacked a Malaysian investment fund, Goldman Sachs is now paying the shortfall—and trying to avoid criminal tax charges in the United States.
Like Deutsche bank, trouble seems to keep following Goldman Sachs around. We talked earlier about the case—the 1Malaysia Development Berhad (1MDB) was intended to drive foreign investment (and thus profit) into Malaysia. However, as described in The New York Times, officials overseeing the fund used it as a "personal piggy bank."
The involvement of Goldman Sachs took the form of raising money for the fund. Between 2012 and 2013, the bank helped 1MDB raise more than $6 billion dollars. It also looked the other way when about $3 billion of that made its way into the pockets of people associated with the project, including the former Prime Minister of Malaysia.
A primary player in the development of the fund—and its pillage—was former Malaysian Prime Minister Najib Razak. When we earlier wrote about a sweetheart deal made with Malaysian prosecutors with Riza Aziz, the stepson of Mr. Razak, it was widely considered Mr. Razak might get off with a lenient sentence. Instead, in July, Mr. Razak was handed a 12-year prison term and a fine of almost $50 million.
Now trying to put the debacle behind them and avoid additional charges by Malaysian prosecutors, Goldman Sachs has agreed to pay $3.9 billion for its role in the scheme. Even as Goldman Sachs attempts to wipe the slate clean in Malaysia, the bank faces prosecutors and financial investigations in the US.
Goldman Sachs is in the position of taking responsibility for its agents, some of whom have admitted to circumventing internal bank controls in dealing with 1MDB.
Negotiations with regulators in the US have been spotty as the instability ushered in by the Covid-19 pandemic has taken its toll on human life and the economy. Goldman Sachs is anxious to avoid a multi-billion fine in the US and has asked federal prosecutors to take into account the money it is paying back to Malaysian authorities. Importantly, negotiations in the US may mean that Goldman Sachs finally has to plead guilty to a federal charge—something it has managed to avoid in prior investigations for poor financial stewardship.
Though damaging, money fines to an institution like Goldman Sachs can be handled—cleaning up a business reputation takes longer.
If you, or your business, are contacted to discuss an IRS audit, talk to your tax attorney in order keep your own personal and business reputation intact.
Involved in an IRS criminal tax investigation? Let our seasoned tax lawyers help you
Located in Cleveland and Chicago, the criminal tax attorneys at Robert J. Fedor, Esq., LLC respond to your concerns about payroll tax issues, allegations of tax fraud or tax litigation. When you need skilled tax advice locally or abroad, contact us today or call 800-579-0997.