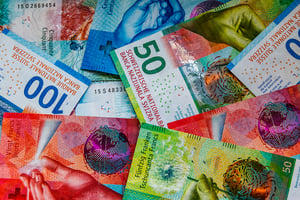 Embattled Swiss bank Credit Suisse is down for the count. The Zurich-based bank is being purchased by UBS, a longtime competitor of Credit Suisse and the largest bank in Switzerland.
We have discussed the increasingly beleaguered state of Credit Suisse. Involved in offshore tax schemes and other flavors of tax crime and evasion, Credit Suisse has been a frequent bad news headliner. The weakened position of the venerable 166-year-old bank, coupled with the volatility of the current economic climate, triggered the Swiss government to broker the deal to bail out Credit Suisse.
The deal is intended to calm financial fears around the condition of Credit Suisse and the Swiss banking system. While it is a good deal for UBS, which is paying $3.2 billion for a company with a much greater market value, there remain hard reconciliations ahead. Recently, the Swiss Financial Market Supervisory Authority (FINMA) stated that $17 million worth of tier-one bonds (AT1) held by Credit Suisse will be written down—to the severe consternation of investors who hold those bonds. As well, the large size of UBS may make it harder for Swiss regulators to influence the institution going forward, dealing a blow to the aura of Switzerland as a European financial leader.
Despite regulatory actions, penalties, and efforts to rehabilitate its reputation, Credit Suisse has not found solid ground in recent years. The bank has been involved in documented dubious doings since the 1940s. Later, Credit Suisse provided foreign bank accounts for those seeking preferential tax settings and anonymity. Later investigations reveal, however, that Credit Suisse catered to drug cartels, organized crime, and other investors to which it was obliged to investigate and report. Instead, the bank overlooked its investigative and regulatory requirements. The reputation and capabilities of the bank grew progressively more tarnished.
It is uncertain whether Credit Suisse could have found firm footing again. UBS will incorporate its valuable units and assets and dispose of the rest. UBS has already announced it will reduce the combined workforce of UBS by 20 to 30 percent in the coming months and years. The move is expected to reduce costs by $8 billion by 2027. The layoff is expected to include about 11,000 jobs in Switzerland. At present, the workforce of the combined banks is approximately 125,000 worldwide.
The takeover of Credit Suisse will reverberate for years. Offering valuable services in the wrong way ultimately led to its downfall—which may have a long-term impact on banking in Switzerland.
Contact us when you are challenged by a tax litigation or charged with criminal tax fraud
The tax group at Robert J. Fedor, Esq., LLC helps you respond strategically to questions about taxes, failure to file tax returns, or your FBAR report. We serve local and international clients from offices in Chicago and Cleveland. Call 800-579-0997 or reach out to us today.