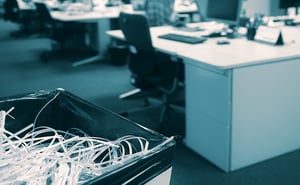 McKinsey & Company is in hot water again as French officials paid a visit to their Paris offices in search of evidence of tax fraud.
The raids took place in May of this year. Prior to that, the Parquet national financier (PNF) had opened an inquiry to examine allegations of money laundering involving profit derived from tax crime. The PNF is a French agency charged with investigating and prosecuting financial crime, including criminal tax matters. In May, the PNF made good on the allegation by searching for evidence of economic and financial wrongdoing during their office raid.
The inquiry followed comments slung about during the French election earlier in the year. The French Senate released a report questioning whether American consultancies were paying enough or any taxes in France. The report described the use of private consultants by President Macron's government. Marie Le Pen, the far-right candidate then in contention with President Macron, claimed consulting companies had undue influence on decisions made by the French government. Questions then arose about money spent on consultants and money paid in taxes by private American consulting companies.
The report noted the government had approximately doubled its spending on external consultants from 379 million euros in 2018 to 894 million euros in 2021. The Senate outline also stated McKinsey had been doing business in France since 1964 but had not paid corporate taxes in a decade.
Of the drama abroad, McKinsey said in a statement, "The company cooperates fully with public authorities, as it has always done. McKinsey reaffirms that it complies with the French tax and social rules applicable to it."
The report from the French Senate was a stinging rebuke of the French government's work with McKinsey and other consulting companies. The Senate also alleges McKinsey misled the parliament by claiming it paid French taxes when the opposite appears to be true.
On this side of the Atlantic, McKinsey is still trying to recover from its partnership with Purdue Pharma, among other scandals. McKinsey worked with Purdue Pharma to boost sales of OxyContin and ignite the opioid crises which has killed more than 760,000 people in the United States so far. For its part in the tragedy, McKinsey agreed to pay approximately $600 million in 2021 to settle lawsuits pending against the company in 47 states for its role in driving the opioid crises.
The French government is cutting back on its use of consultants. Somewhere down the road, McKinsey may have to step up to some French back taxes, while in the U.S. it admits no wrongdoing in its efforts to earn fees at the cost of lives. While hindsight is 20/20, a little foresight would be priceless.
Experienced tax attorneys help you with tax litigation, compliance, and payroll tax issues
Serving local and international clients from offices in Chicago and Cleveland, the legal team at Robert J. Fedor, Esq., LLC helps you respond strategically to questions about bankruptcy, allegations of criminal tax fraud, or offshore tax questions. Call 800-579-0997 or contact us today.