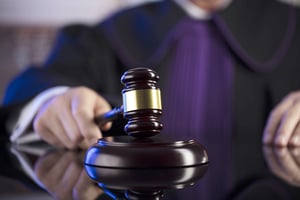 The New York Friars Club has been known for outlandish, sometimes scandalous celebrity roasts. But in recent years its management has been an even bigger source of scandals. Michael Gyure, the former executive director of the Friars Club, pleaded guilty in January to filing false tax returns.
Prosecutors asked that Mr. Gyure be sentenced to 12-18 months in prison. He was accused of trying to enrich himself at the expense of the club and its membership. Some members said that his actions were consistent with his lax oversight of the club. On July 8, the judge sentenced Mr. Gyure to one year of supervised release and 100 hours of community service. The judge stated that Mr. Gyure was only being sentenced for his tax offenses. "Gripes about his leadership," she said, "were beyond the court's scope."
A Fading Legacy
Once synonymous with celebrity, the Friars Club has struggled in recent years. For decades, the Friars Club had legendary stars as part of its membership and executive board, including Irving Berlin, Frank Sinatra, Liza Minelli, Barbra Streisand, Ed Sullivan, Milton Berle, Johnny Carson, Groucho Marx, Jimmy Fallon, and Jerry Lewis.
But this legacy has faded and fewer A-list celebrities have visited the New York City headquarters in more recent times. Membership decreased and debt increased. In 2010, the club lost its tax-exempt status as a fraternal organization. By 2017, the electric company had threatened to shut off the electricity, vendors had gone unpaid and state sales taxes were in arrears. Even so, no charges were filed against the club.
The Friars Club's lead attorney, Arthur Aidala quipped that, "Leadership is going to be clean as a whistle while we tell dirty jokes."
Guilty Plea Covered Personal Tax Returns
Mr. Gyure pleaded guilty to charges of filing false income tax returns from 2012-2015. He did not disclose $433,000 in personal expenses and benefits. According to the court, he filed income tax returns that understated his income by failing to report income he earned from the club as payments of personal expenses.
Despite the accusations and conviction, the majority of Friar Club members expressed support for Mr. Gyure. In fact, though he has been removed as executive director, the Friars Club has paid some of his legal fees and he continues to work for the Friars Club in a different role with a five-year employment contract—with no financial oversight responsibilities.
Tax Fraud Usually has Serious Consequences
Despite what seems like a lenient sentence, Mr. Gyure's story should serve as a cautionary tale. Many people who manage or serve on boards of fraternal organizations, charities and other non-profits are put in the position of managing the organization's finances.
If you are not an accountant or a tax lawyer, you can easily find yourself in serious legal trouble. Consulting with an experienced, reputable tax lawyer can help avoid any appearance of impropriety--or an IRS investigation that could ruin your reputation and the reputation of the organization.
Experienced Tax Lawyers Help Individuals, Corporations and Non-Profit Organizations
The attorneys at Robert J. Fedor Esq. LLC can help you and your organization avoid serious tax fraud and mismanagement charges. With offices in Chicago and Cleveland, we can help you develop bylaws and ensure your organization is compliant with IRS regulations and financial management practices. To learn more or to schedule a free consultation, call 800-579-0997 or contact us online.