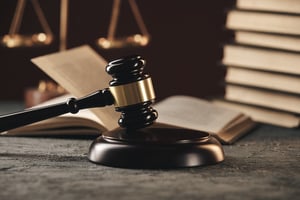 Entering a guilty plea on seven felonies including tax fraud, a Massachusetts man is hoping to resolve his involvement in the Panama Papers scandal--a document leak that has impacted high wealth individuals around the world.
We have been following the story and the fallout of the Panama Paper document trove for some time. The leaked exposure of roughly five million files, from the now-defunct Panamanian law firm Mossack Fonseca, threw open a door to global money laundering that has yet to be closed.
Richard Gaffey was a longtime accountant for a wealthy client by the name of Harald Joachim von der Goltz. Though German, Mr. von der Goltz held US citizenship during the period that he and Mr. Gaffey worked together. During that time, Mr. Gaffey went to considerable lengths to aid his client with his financial affairs.
Working with operatives from Mossak Fonesca, Mr. Gaffey created shell companies in offshore tax havens through which Mr. Gaffey, Mr. von der Goltz, and other clients laundered "tens of millions" of dollars. He counseled customers on techniques to hide assets, income, and capital gains by using foreign bank accounts, fraudulent tax returns, and ownership fraud. In other instances, Mr. Gaffey advised clients on how to secretly repatriate money to the US, committing multiple tax crimes along the way.
Given that Mr. Gaffey, now 75, was actively working to help his clients avoid US taxes between the years of 2000 and 2018, the evidence against Mr. Gaffey could be considerable. In this case, it is possible entering a guilty plea was the only reasonable route to a potentially shorter sentence. Noted Assistant Attorney General Brian A. Benczkowski, "This defendant worked with the Mossack Fonseca law firm and exploited his role as an accountant to create fraudulent shell companies and defraud the United States of millions of dollars over decades." In other words, the guy was caught red-handed.
The plea of Mr. Gaffey is the second in recent days and follows the guilty plea of 82-year old Mr. von der Goltz. Still other allegations have been laid against those who worked with the pair.
Mr. Gaffey and Mr. von der Goltz are scheduled to be sentenced in June of this year. As both men pled guilty to multiple felonies, the potential prison time faced by each, along with fines and restitution is considerable.
The story of the Panama Papers continues. If you are approached by the IRS regarding an offshore tax deal or other tax controversy, speak with an experienced tax attorney.
Skilled legal guidance on criminal tax matters
Located in Cleveland and Chicago, the tax lawyers at Robert J. Fedor, Esq., LLC help you navigate questions about criminal tax charges, false tax returns, or tax litigation. When you need seasoned tax advice, contact us online or call 800-579-0997.