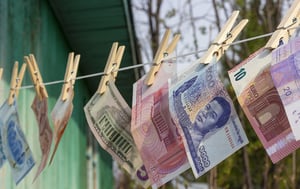 An official of an international money laundering watchdog says efforts to reduce tax crime and regulate offshore tax behavior remains an uphill battle.
As the Executive Secretary of Paris-based Financial Action Task Force (FATF), David Lewis is a global leader in the effort against global corruption, schemes that fund terrorist organizations, and financial crime. He recently spoke with the International Consortium of Investigative Journalists (ICIJ) (the group that brought us the Panama Papers expose' and continues to pull back the curtain on international monetary crime).
FATF is a non-profit organization that monitors terrorist financing and money laundering on the global stage. Recognizing that rampant graft and financial crime is as much a global concern as the bane of any one country, the group has developed standards to provide a coordinated international response to terrorism, corruption, and organized crime. Approximately 200 countries and jurisdictions recognize the standards promoted by the organization.
Reflecting on the status of local and national work against criminal tax matters, Mr. Lewis makes points including the following:
Even in jurisdictions where regulatory action against financial crime is improving, the measures "are rarely being used effectively, or to the extent that we would expect."

Large-scale graft continues to drive schemes, such as the draining of funds from the Malaysian development fund 1MDB and Russian money washing schemes.

In the present COVID-19 climate, bad actors are duping individuals and countries into large-scale purchase of

fraudulent

medical supplies and personal protective wear (PPE).

Some countries have shown improvement but too often that improvement occurs in anticipation of a national corruption report updates or there is a concern about being named on a list of questionable regions for money laundering or corruption, like the so-called

FATF "grey-list."
Mr. Lewis notes, "I would sum up the results as 'everyone is doing badly, but some are doing less badly than others. There are signs of success in some countries and most now have the tools to do the job. We are seeing national efforts go in the right direction but there's still a long way to go."
Global efforts against money laundering have real-world impacts for countries and regions around the world, especially in a volatile and unsteady economy. If you have questions about strategic protection of wealth through legitimate use of a foreign bank account or offshore tax shelters, speak with an experienced a tax attorney for guidance.
Experienced tax lawyers help you protect your wealth
With offices in Chicago and Cleveland, the legal team at Robert J. Fedor, Esq., LLC helps clients respond to IRS audits, and allegations of offshore tax improprieties or tax crime. When you need experienced legal advice locally or abroad, call 800-579-0997 or contact us.