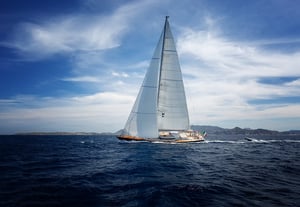 What do maritime flags and the expensive purchase of citizenship have in common? Oftentimes, tax fraud.
Both tools are common to those who hold assets or foreign bank accounts in secrecy jurisdictions. Maritime vessels, from tankers to luxury yachts, can slip in and out of port under a flag of convenience, while a golden passport offers wealthy purchasers the benefits of alternative citizenship without ever having to leave home.
Let's take a closer look:
Flags of convenience: Vessels are required to register and carry a maritime flag. In so-called open registry jurisdictions, like the Marshall Islands and Panama, ships can take advantage of loose regulatory conditions to provide privacy to their owners. This type of registration offers freedom from regulation, the opportunity to evade taxes, and oftentimes pay less in labor and other costs.
Whether it is Panama or Liberia, a flag of convenience can also shelter a ship owner from legal liability in the event of an accident, crime, or other illegal charge. In return, the country who offers their flag for sale can earn millions of dollars in registry fees. Because they operate under a literal cloak of secrecy, these vessels—and countries that offer open registries—are also increasingly coming under scrutiny for the practice.
The practice is not limited to the maritime industry. Private planes can be used to obtain tax exemptions in certain countries for wealthy individuals or companies that spend only a few hours on foreign soil.
Golden passports: The Tax Justice Network documents its efforts to surface the problem of passports for sale. In March of this year, the Network detailed the efforts of certain jurisdictions to sell citizenship to high wealth individuals. The practice can play into global tax evasion, as well as financial crimes including money laundering and evasion of criminal prosecution. A short list of some of the jurisdictions that offer citizenship for sale include:
Barbados
Belize
Cayman Islands
Costa Rica
Cyprus
Montserrat
Samoa
Lucia
Turks and Caicos Islands
Botswana
Many of these jurisdictions opt out of sharing information that would reduce global tax fraud.

The convenience of purchasing a flag or citizenship for your yacht or wealth may not last forever. In the meantime, speak with an experienced IRS tax attorney if you are approached by the IRS to discuss your offshore tax holdings or other financial matters.

Experienced tax defense if you are challenged by an IRS criminal tax investigation
The tax attorneys at Robert J. Fedor, Esq., LLC deliver experienced legal representation if you are involved in a tax controversy or questioned about your foreign holdings. With offices in Chicago and Cleveland, we serve local and international clients. Call 800-579-0997 or contact us today.