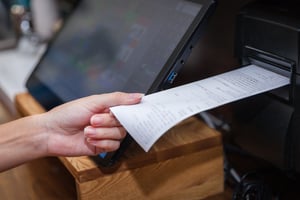 With stacks of cash and money changing hands quickly, it's easy to understand the temptation for restaurant owners to dip into those funds when cash is needed for personal expenses. However, two Texas restaurant owners took it to another level when they hatched a tax fraud scheme by skimming off their gross receipts and taking the money for their personal use. After seven years of fraud, the IRS caught up with them and they were sentenced earlier this month.
From the Department of Justice Press Release:
United States District Court Judge Xavier Rodriguez sentenced Michael Herman to 21 months in prison, and Cynthia Herman to five years of probation. On May 20, 2019, an Austin jury convicted Michael Herman and Cynthia Herman (the "Hermans") of conspiring to defraud the United States by impeding and impairing the IRS and filing false 2010 and 2011 individual income tax returns. Michael Herman was also convicted of filing false 2010 through 2012 corporate income tax returns.

According to evidence introduced at trial and witness testimony, the Hermans owned and operated Cindy's Gone Hog Wild, a restaurant and bar in Travis County, Texas, and two restaurants in Bastrop County, Texas, Cindy's Downtown and Hasler Brothers Steakhouse. The Hermans skimmed cash from the restaurants by depositing only a portion of the cash receipts into their business bank accounts and reporting only those limited deposits on the corporate and individual income tax returns. The Hermans also paid for personal expenses out of the business accounts, including repair of their swimming pool, utilities for their home and the salary of a household employee. As a result, the personal returns filed by the Hermans falsely underreported income and businesses' corporate returns and falsely deducted personal expenses as business expenses.

Judge Rodriguez also ordered the defendants to pay $157,719 in restitution, and Michael Herman to serve three years of supervised release.
Tax lawyers deliver knowledgeable help with civil and criminal tax matters
Serving international and local clients from offices in Chicago, Cleveland, and Illinois, the legal team at Robert J. Fedor, Esq., LLC is highly experienced with tax law. We provide discrete legal service if you face a tax controversy. Contact us online or call us at 800-579-0997 today.