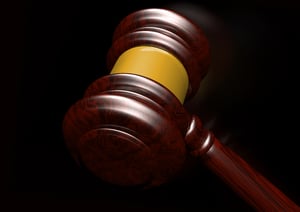 Since the summer, we have been following the story of a former IRS attorney who used what he learned on the job to serve his personal interests. But it backfired and he was convicted by a federal jury for 23 years of tax evasion. Well, last month, the hammer came down and he received his sentence.
According to an article on Bloomberg Tax:
A former IRS attorney was ordered to spend 32 months in a Las Vegas prison and pay more than $923,000 in restitution for evading federal income taxes.

A jury convicted Craig Orrock of Salt Lake City in May after the government presented evidence that he didn't pay the income taxes that he reported were due on his 1993-2015 tax returns.

Government lawyers argued Orrock tried to stop the IRS from collecting the taxes by using bank accounts, trusts, and other entities under different names to shield his income and assets, the Justice Department said in an Oct. 23 release. Orrock used one entity, Arville Properties LLC, to conceal that he owned property that he sold for $1.5 million in 2007, it said.

Overall, Orrock avoided more than $500,000 in federal income taxes.
Tax lawyers deliver knowledgeable help with civil and criminal tax matters
Serving international and local clients from offices in Chicago, Cleveland, and Illinois, the legal team at Robert J. Fedor, Esq., LLC is highly experienced with tax law. We provide discrete legal service if you face a tax controversy. Contact us online or call us at 800-579-0997 today.