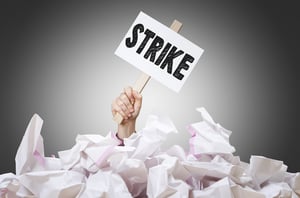 It started with the discovery of false income tax returns. By August 2019, eight officials of United Auto Workers and Fiat Chrysler had been sentenced—and the investigation continues.
The International Union, United Automobile, Aerospace, and Agricultural Implement Workers of America (known as the UAW) was founded in 1935. Though the labor union has seen better days, it still counts approximately 400,000 dues--paying members with over 580,000 retired workers. The union serves the US, Canada, and Puerto Rico.
At present, a UAW strike against General Motors is almost a month in. Losses on both sides are mounting as workers try to make do with strike pay. Analysts suggest the company has already lost $1 billion in productivity. With each side facing pressure from national and international economic factors, the situation is tenuous. On top of this, UAW President Gary Jones saw his home raided by the FBI just days before Labor Day as the agency continued their probe into embezzlement and corruption among the ranks of labor leaders.
Often pursued by an individual or a small cohort, tax fraud has many guises. In the case of UAW, the idea seemed to be go big or go home. Just some of the tax crimes included:
The widow of former UAW Vice President General Holiefield, Ms. Monica Morgan, accepted "hundreds of thousands" of dollars from the UAW-Chrysler National Training Center while her husband served the union. In addition her photography and other businesses received payouts from Fiat Chrysler Automobiles (FCA) disguised to look like charitable donations.
As reported by the Department of Justice, the payments by Fiat Chrysler to UAW officials were intended to keep them "fat, dumb, and happy." Convicted of a felony tax crime, the sentence of Ms. Morgan was enhanced due to her use of shell companies to hide the criminal tax fraud. She will serve an 18-month prison sentence.
Former FCA official Alphons Iacobelli pled guilty to filing a fraudulent tax return and violating the Labor Management Relations Act. Iacobelli admitted to making hundreds of thousands of dollars in donations to charities under the control of labor leaders. Mr. Iacobelli also paid off a mortgage held by Mr. Holiefield, who passed away in 2015.
Norwood Jewel, a contract negotiator for UAW, was sentenced to 15 months in prison for misusing funds and violating the Labor Relations Management Act. In addition to throwing lavish parties for his best buddies, Mr. Jewel took approximately $90,000 in shadow money from FCA and spent it on "20 boxes of cigars, ultra-premium liquor, personalized bottles of wine, and women paid to light the cigars of senior UAW leaders."
Against a strike line of workers desperate for job security and stable pay, the wanton embezzlement by union leaders that is unraveling in the media strikes a sour chord. New UAW leadership states it "will draw the line on more concessions to an auto industry flush in profits." We'll see.
Strategic legal representation on tax litigation nationally and abroad
From offices in Cleveland and Chicago, the skilled tax lawyers at Robert J. Fedor, Esq., LLC can help you handle IRS tax audits, questions about foreign bank account, or other tax controversy. When you need confidential, responsive, legal advice, call 800-579-0997 or contact us.