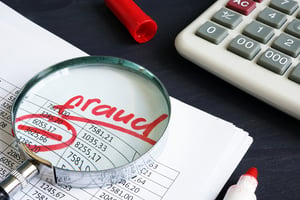 As the 2020 tax season moves into full swing, the Internal Revenue Service (IRS) has been working hard to take fraudulent tax returns off the table. How? By going after tax preparers who commit tax fraud.
False tax returns are a big problem for the IRS and eventually become a problem for taxpayers who unknowingly participate in a tax crime. It is a bigger problem, of course, for taxpayers in cahoots with their accountant to create a false income tax return.
Here is a recent rundown:
New York businessman

Oyeniyi Jaiyesimi

owned Pace Financial Services. Offering tax preparation services in Springfield Gardens, Mr. Jaiyesimi used stolen identities to file fake tax returns in order to obtain illegal refunds. He also engaged in the very old tax crime of creating fake dependents to boost exemptions. All in all, he is going to the prison for three years, paying $58,000 in restitution, and looking at two years of probation beyond that

.
Andrea Nadel

owned a Savannah, Georgia enterprise called EZ Accounting which operated as a tax preparation business. Nadel also specialized in fraudulent deductions, claiming deductions for charity donations, employee expenses, and more. Ms. Nadel agreed to a permanent injunction as a result of pleading guilty to preparing a false tax return.

From Virginia, we have a tax lobbyist,

James Miller

, an attorney, who underreported his income from 2010 to 2014 by almost $2 million. He left out partnership income and profits from his lobbying firm. He will pay $735,933 in restitution, serve one year in prison and one year of probation.
This type of activity is a surprise to no one who pays taxes. But the truth and consequences drive home the need to avoid using tax preparers who could be trying to "help you" while they help themselves.
Most importantly—remember that if there is a problem with your tax history, foreign bank accounts, or your reporting regularity—speak with an experienced tax attorney as quickly as you can pick up your cell phone. Working to resolve a tax controversy with an offer in compromise or other solution can defer more serious IRS actions and could leave your career, reputation, and liberty intact.
Experienced tax lawyers in Cleveland and Chicago provide seasoned legal support on civil and criminal tax matters
Serving national and international clients, the tax team at Robert J. Fedor, Esq., LLC helps you handle IRS tax challenges and tax litigation. When you need comprehensive tax advice locally or abroad, call 800-579-0997 or contact us.