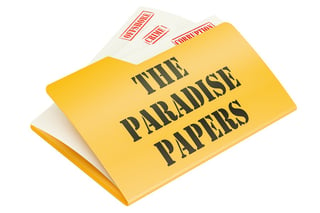 The so-called Paradise Papers are getting a lot of press. What does this set of leaked files mean to the worried wealthy?

The International Consortium of Investigative Journalists (ICIJ) is an acclaimed non-profit group composed of more than 200 journalists from around the world. Taking aim at crimes that cross borders, the global news organization conducts in-depth research to create hard-hitting stories that pull back the curtain on international crime—including tax crimes involving foreign bank accounts.
In April, 2016, the group released the Panama Papers, a wide-reaching expose that had global implications for brands, companies, and individuals with "offshore financial secrets." A leaked cache of 11.5 million records from the Panamanian law firm Mossack Fonsecra, covering 40 years, illuminated the shadowy—and sometimes illegal—financial practices of politicians, celebrities, banking institutions, and governments. Consequences of the release of the papers for some people included scandal, criminal tax investigations, and downfall.
In November 2017, the ICIJ released a new investigation, titled the "Paradise Papers," based on 13.4 million leaked files from company registries, and offshore law firms in countries known for their secretive tax practices. The principal firm exposed in the leak is Appleby, a white shoe law firm known for its offshore tax practice serving prestigious and wealthy clients. The firm protested the loss of its confidential documents. Appleby has long promoted itself as "a leader in the magic circle of offshore law firms." Documents in the leak suggest Appleby has long run afoul of its own compliance measures by knowingly handling clients with alleged connections to illegal operations including tax fraud, terrorism, and blood diamonds.
Creation and management of offshore tax accounts is legal and financially advantageous when strategically handled. Operating nationally and internationally, our tax attorneys routinely offer counsel and confidential service to individuals and corporations seeking to remain in compliance while gaining maximum growth on their wealth. With the document leak and loss of confidentiality, some clients of the Appleby firm are gaining publicity they had not bargained on.
Notable names in the news as a result of the Paradise Papers leak
Like the Panama Papers, the Paradise project has provided fodder for investigations, arrests, and the association of elite individuals and organizations with criminal tax matters and money laundering around the world.
Just some of those caught in the net include Irish rocker Bono, singer Shakira, Queen Elizabeth, governmental officials in the U.S., and elsewhere, singer Madonna, and even the long-dead. The estate of singer Michael Hutchence, deceased with one surviving child, has long been the subject of intrigue and denial. Data from the Paradise project may fuel claims of unjust enrichment of people and entities other than his rightful heirs.
Unwanted publicity from inadvertent exposure of sensitive financial information, due to accounts that are not legally sound, could trigger an IRS criminal tax investigation. The Paradise project speaks to the need to work with a law firm that is cautious and careful with your wealth, documents, and reputation. Although offshore tax havens are legal, they come with important regulatory requirements.
Experienced counsel with strategic tax investment and criminal tax defense
Representing US and international clients, Robert J. Fedor Esq., LLC delivers confidential, strategic counsel and guidance on matters of civil tax audits or criminal tax investigation. With offices in Cleveland and Chicago, contact us when you need a skilled tax attorney.