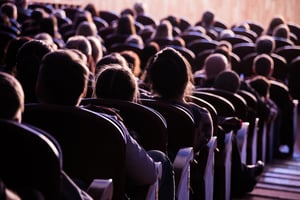 Lights, camera, popcorn! "Laundromat," a Steven Soderbergh film about the Panama Papers that exposes the offshore tax liberties taken by the high-monied elite, premiered recently at the Venice International Film Festival.
Starring Meryl Streep, the film is described by Variety as a "fluky contradiction that works." The Netflix movie takes heady aim at tax fraud and offshore tax crime as it walks us through the world of secrecy jurisdictions and money laundering. The movie is based on the essay "Secrecy World," by Jake Bernstein.
The Panama Papers scandal grew from millions of confidential files leaked in 2016 from the Panamanian law firm Mossack Fonseca. Although the law firm is now defunct, the disclosure of the investing habits of the rich and famous knocked the blush off many a rose, and tax jurisdictions around the world are now taking a closer look at individuals and institutions alike. Like say, for example, Deutsche Bank.
Shell companies are an important part of offshore tax havens and laundering of money activities around the world. Since the International Consortium of Investigative Journalists (ICIJ) began its investigation into the leaked Panama Papers, more than 700,000 trusts, companies, and other opaque interests have been identified.
The narrative arc of the movie follows a widower (Streep) who loses out on an insurance payout, which puts her on the trail of shell companies and tax havens. Simultaneously, the movie presents several other loosely connected story chapters.
Right now, "Laundromat" is trending at about 50 percent on the Rotten Tomatoes Tomatometer, but it is a better movie than that. Highly digestible, you might want to believe the movie is another sometime-fun, sometime-not run at the elite. The trouble is this movie is not fiction, and it makes an effort to give us a heads-up about a global problem that siphons legitimate tax monies away from countries and communities in need. "Laundromat" is available on Netflix.
Protecting your wealth, through legitimate investment or in an offshore or foreign bank account, is important. An experienced tax lawyer can provide legal solutions and frank advice to help you avoid the knock of the IRS at your door. Your name in lights or headlines is pretty great if you are Meryl Streep. For the rest of us, not so much.
Strategic guidance on IRS audits or criminal tax defense in Cleveland and Chicago
The tax lawyers at Robert J. Fedor, Esq., LLC deliver knowledgeable legal representation and workable solutions to challenges of tax fraud, offshore tax issues, and other tax controversies. Call us at 800-579-0997 or contact us online today.