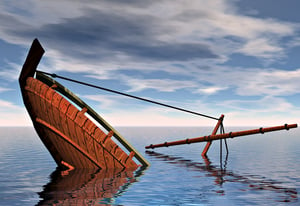 Things just continue to get worse for Deutsche bank. In free fall from civil and regulatory investigations that have stretched on for years, Deutsche is now facing scrutiny on criminal charges.
With Deutche under fire for a range of global misdeeds, US investigative agencies have been birddogging the firm since 2015. Just some of the revelations around Deutsche in the last few years read like this:
Deutsche has been the bad actor of international finance for a number of years, even prior to 2018. Between 2013 and 2018, it paid 1.4 billion euros to settle claims of inadequate disclosure on mortgages, was fined $2.5 billion for rigging its Libor rates (which are used to calculate average interest rates) and it handed over $258 million for violating sanctions leveled at several Middle Eastern countries.

Mortgage troubles again entered the fray for Deutsche in 2017 when it handed over $7.2 billion for its role in the housing bubble that led to the Great Recession.

Also in 2017, Deutsche owned its relationship to the Russians by paying $629 million to the United States and the UK for its thinly disguised part in money laundering, tax fraud, offshore tax evasion, and other criminal tax matters. In 2018, Deutsche headquarters were raided as part of the ongoing investigation into the Panama Papers.
We talked previously about the attempt by Deutsche to restructure and clean house. Along with that internal shake-up, Deutsche is reportedly shedding 20,000 jobs to lighten its load as the business contracts. While dumping employees is a time-honored means of going lean, there are real questions about whether Deutsche can survive as anything but a sinking ship.
The most recent concerns for Deutsche have been advanced by the United States attorneys in Brooklyn and Manhattan, the Federal Bureau of Investigation (FBI), and the Department of Justice (DOJ). It is worth noting that although Deutsche has paid billions of dollars in fines, it has not yet faced charges of criminal wrongdoing that stuck. With its current track record, it is pretty surprising the institution has evaded criminal penalties for this long. That may—or may not—change.
Criminal allegations against Deutsche—swirling or solid?
The US Bank Secrecy Act is intended to deter and reduce the incidence of money laundering in the United States, itself a leading secrecy jurisdiction for stashing un-taxed cash. The Act establishes financial reporting guidelines in an effort to identify money traveling through foreign bank accounts.
Both taxpayers and institutions are required to report sums through FBAR, FATCA, and other tools. The (current) problem facing Deutsche is that it may have failed to report suspicious transactions passing through its financial portals.
If wrongdoing is identified, it is going to be pretty tough for Deutsche to deny culpability given that the bank has already admitted to gaps in its compliance tools and practices. Tammy McFadden is a former Deutsche employee turned whistleblower who worked as a compliance officer for the bank. Ms. McFadden alleges she red-flagged suspicious transactions and prepared appropriate federal reports that her superiors sidelined instead of submitting. In one instance, a report involved activities of the family of senior White House advisor Jared Kushner.
As these and other investigations move forward, Deutsche continues to don a game face, tout improved money laundering controls, and make claims of a successful turnaround just around the corner. The real question for this bank, and any other entity with such a checkered compliance history, is whether that turnaround is just about out of reach.
Concerned about business or personal tax compliance? Speak with an experienced IRS tax attorney today
From offices in Cleveland and Chicago, the legal team at Robert J. Fedor, Esq. LLC offers discreet, effective civil and criminal tax defense for our clients throughout the USA and globally. Call us to schedule a free consultation at 800-579-0997.