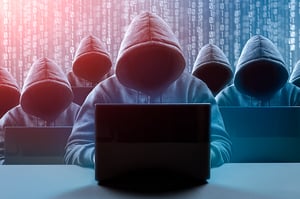 Stolen personal identifying information (PII) allowed an international crime ring to obtain millions of dollars in tax refunds from the U.S. Government.
As we discussed earlier, PII is the key component in identity theft. PII is valuable personal information such as a social security number, address, full name, and financial or health information. Fraudsters who obtain PII can use it to assume the identity of an individual—or create an entirely synthetic identity. PII is often bought and sold on the Dark Web for use in scams. For one crime crew, stolen PII may mean decades in prison.
The scheme was orchestrated around stolen PII and the filing of fraudulent tax returns to obtain tax refunds through the Internal Revenue Service (IRS). Adetunji Adejumo and Ibrahim Jinadu, of London England, and Oklahoma City, respectively, resided stateside. Two other conspirators remained in England. From England, the group obtained PII from the computer servers of hacked American companies doing business in the UK. The group made use of a website that sold access to compromised U.S. servers. The website had apparently been functional for years, selling server access to cybercriminals around the world.
PII stolen from U.S. servers in England was then transmitted to the crew in the U.S. The information was used to file fraudulent tax returns without the knowledge of taxpayers whose identity information was stolen. Tax refunds were directed to accounts controlled by the group and proceeds were shared with those in the UK.
This scam is just one of many that plague U.S. taxpayers and the IRS. The IRS continues to warn taxpayers about remaining alert for signs of tax-related identity theft, including:
Receiving an error when you file your tax return that you are using a duplicate Social Security number.
Receiving a notice or letter from the IRS that you have established an online account when you have not. Similarly concerning is a notice that your online account has been accessed or disabled.
Correspondence from the IRS concerning taxes owed, collection actions, or suspicion of a fraudulent return.
For fraudsters, the IRS continues to make prosecutorial inroads with individuals and groups of conspirators who commit tax crimes. In the present case, Adetunji Adejumo and Ibrahim Jinadu recently pled guilty, while co-conspirator Olufemi Odedeyi awaits extradition from England. They face a possible 20-year prison sentence.
The IRS has a long reach and a memory to match. If you are concerned about a potential tax crime you have committed or other tax controversy—speak with an experienced tax attorney about your options.
Talk with our tax lawyers today if you received an IRS audit letter or are concerned about a criminal tax charge
Serving local and international clients from offices in Chicago and Cleveland, the legal team at Robert J. Fedor, Esq., LLC provides experienced legal defense on matters of tax litigation, tax crime, or IRS audits. Call 800-579-0997 or contact us online today.