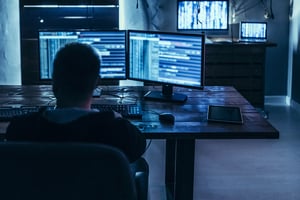 A lot of fraudulent tax returns added up to a conviction in U.S. federal court for a man who orchestrated an international tax fraud scheme.
The criminal tax charges, in this case, arose from a particularly ambitious effort to defraud the Internal Revenue Service (IRS) and thus the U.S. Treasury. Ayodele Arasokun, who hails from Nigeria, was convicted in West Virginia for a criminal tax fraud he conducted in the U.S. while living outside Paris.
According to the Department of Justice (DOJ), Mr. Arasokun was the kingpin of an international effort to create false income tax returns and collect the tax refunds on those returns. Mr. Arasokun was eventually charged with filing 1,701 fraudulent tax returns.
Many of the dubious returns filed by Mr. Arasokun and his crew were claimed in the name of taxpayers living in West Virginia. When contact information is lifted or hacked from databases and other data collection sources, identity theft is often the result. In this case, the stolen identities drove the false tax returns, which in turn resulted in $9.2 million in tax refund claims.
Mr. Arasokun was able to actually collect $2.2 million in refunds that were transferred to pre-paid debit cards or paid into accounts he controlled. Evidence was uncovered that Mr. Arasokun was monitoring approximately 700 U.S. financial accounts that contained in excess of $50 million.
Mr. Arasokun was convicted on 21-counts of aggravated identity theft and wire fraud. Evidence in the case was collected by the IRS-CI along with the Treasury Inspector General for Tax Administration (TIGTA) which pursues the prosecution of cybercrimes, among other matters.
Noted the U.S. Attorney involved in the IRS criminal tax investigation of Mr. Arasokun, "The jury's verdict sends a clear message to criminals everywhere: don't mess with the IRS. We have the best cybercrime investigators in the world and if you tamper with our tax system, we will find you, extradite you, and incarcerate you."
Beyond the message delivered by the IRS about its pursuit of perpetrators of tax crimes, this case also speaks to the need for skilled legal representation. If you are in over your head in a potential prosecutable tax offense, talk to an experienced criminal defense tax attorney. Experienced legal counsel can advise you on options that may mitigate some of the impacts on your life, liberty, and career. Right now? Mr. Arasokun sits in a West Virginia jail cell awaiting sentencing.
Speak to knowledgeable criminal tax defense lawyers when you face a criminal tax charge or other tax litigation
Serving clients nationwide from offices in Cleveland and Chicago, the tax attorneys of Robert J. Fedor Esq., LLC provide trusted representation on criminal tax defense, offshore tax investments, and compliance matters. Call us at 800.579.0997 or contact us today.