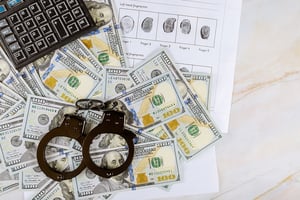 The Internal Revenue Service (IRS) has many departments, one of them being the Criminal Investigation (CI) unit. This department serves the U.S. by investigating criminal financial crimes such as tax fraud, money laundering, identity theft scams, healthcare fraud and more.
You can learn about IRS-CI's processes and latest cases on their website, but we wanted to share some highlights of theirs from the past several years that they recently shared with us:
Below is just a small example of the types of cases in which CI has led or been significantly involved in over the last few years. These cases show the breadth and skill of CI's Special Agents in various types of fraud and criminal activity that have had significant impacts on the financial system at home and abroad. Despite having 25% less staff over the course of the decade, CI has consistently delivered strong results. An increase in funding would help to add more investigations to the pipeline, ensure more criminals are held accountable, and shore up the global financial system.

Narcotics/Counterterrorism/National Security Investigations

IRS:CI targets the illicit financial flows of Transnational Criminal Organizations to reduce the economic incentive of narcotics trafficking, terrorist financing, and money laundering. IRS:CI has key positions to enhance operational coordination at DEA SOD, EO-OCDETF, OCDETF Fusion Center, FinCEN, IOC2, HIDTA, J-CODE in addition to Joint Terrorism Task Force (JTTF) and National Counterintelligence Task Force (NCITF). Investigations involve money laundering (Title 18) and currency violations (Title 31). IRS:CI is the largest user of Bank Secrecy Act data to identify significant financial criminal activity. Investigative areas include: money laundering, narcotics, public corruption, corporate fraud, terrorism, healthcare fraud, and financial institution fraud.

Herman Aguirre, the leader of transnational drug conspiracy tied to the El Chapo Mexican drug cartel, was convicted of narcotics conspiracy, and operating a continuing criminal enterprise and money laundering conspiracy. He was sentenced to serve life in prison.

Aguirre was the leader of a transnational drug trafficking organization that utilized contacts and a source of supply whose territory included Mexico, Arizona, California, and elsewhere. The source of supply was the Sinaloa Cartel, led by Joaquín "El Chapo" Guzmán and Ismael "El Mayo" Zambada.

Alfredo Vasquez-Hernandez, 59, was sentenced to 22 years in prison for his role in a $1 billion trafficking conspiracy.

Vasquez-Hernandez was a high-ranking member of the Sinaloa cartel and a close lieutenant of Joaquin 'El Chapo' Guzman.

Hernandez was the logistics man behind shipping tons of drugs by train from Mexico to Chicago concealed amid furniture cargo.

Singapore Solution – 9/28/2021

Six offshore financial service executives and a Swiss financial services company were charged with conspiracy to defraud the IRS for allegedly helping three large-value U.S. taxpayer-clients conceal more than $60 million in income and assets held in undeclared, offshore bank accounts to evade U.S. income taxes.

Defense Attorney Money Laundering Conspiracy - 10/28/2021o

A federal jury convicted an attorney of conspiracy to commit money laundering after evidence showed that received drug proceeds from clients and associates who engaged in drug trafficking and used bank accounts of the law firm where he practiced to launder more than a million dollars.

Zong Money Laundering Case - 12/7/20189/28/2021

In December 2018, in Anchorage, Alaska, Mitchell Zong was sentenced to 30 months in prison for conspiracy to commit money laundering with his father, Kenneth Zong. Mitchell Zong laundered approximately $980,000 of Iranian derived funds knowing the funds came from his father's illegal transactions with Iranian nationals.

UniCredit Bank IEEPA Case – 4/15/2019

In 2019, UniCredit Bank AG (UCB AG), a financial institution headquartered in Munich, operating under the name HypoVereinsbank, and part of the UniCredit Group agreed to plead guilty to conspiring to violate IEEPA and to defraud the United States by processing hundreds of millions of dollars of transactions through the U.S. financial system on behalf of an entity designated as a weapons of mass destruction proliferator and other Iranian entities subject to U.S. economic sanctions.

UniCredit Bank Austria (BA), another financial institution in the UniCredit Group, headquartered in Vienna, Austria, agreed to forfeit $20 million and entered into a non-prosecution agreement to resolve an investigation into its violations of IEEPA. UniCredit SpA, the parent of both UCB AG and BA, agreed to ensure that UCB AG and BA's obligations are fulfilled.

Cyber/Cryptocurrency Investigations

Since 2014, CI Cyber Crimes has proportionately grown in both resources and results. Beginning with one Cyber Crimes Unit in the Washington, DC area, CI was able to successfully prosecute some of the first known criminal actors in this space (e.g., Liberty Reserve, Silk Road and Btc-e). These investigations set the foundation and framework for our future efforts. Soon after, CI established a second Cyber Crimes Unit in the Los Angeles Field Office followed by cyber coordinators across the nation and additional support personnel to provide investigative research and analysis.

In FY21, CI was responsible for the seizure of cryptocurrency valued at more than $3.5B. To date in FY22, CI has already surpassed that amount.

A citizen and resident of India was indicted for his alleged role in a massive criminal conspiracy involving the cryptocurrency company he founded, BitConnect.

The individual and his co-conspirators allegedly defrauded global investors of over $2 billion—believed to be the largest cryptocurrency fraud ever charged.

Two individuals were arrested in Manhattan for an alleged conspiracy to launder stolen cryptocurrency from a virtual currency exchange, presently valued at approximately $4.5 billion. Thus far, law enforcement has seized cryptocurrency valued over $3.6 billion linked to that hack.

Silk Road $1B Seizure - 11/5/2020

This case involved cryptocurrency CI traced which was stolen from the administrator of Silk Road that we indicted several years ago.

Investigation revolved around cryptocurrency fundraising for several terrorist organizations.

Hammas/Al Queda/ISIS used cryptocurrency fundraising intended to carry out criminal acts.

IRS CI helped shut this down - largest crypto seizure tied to terrorism to date.

Largest darknet marketplace for child exploitation.

Resulted in over 330 arrests and 23 kids saved who were being actively abused.

Tax Investigations

IRS:CI is the only federal law enforcement agency authorized to investigate Title 26 (federal criminal tax) violations. Priority areas include: abusive tax schemes, employment tax fraud, non-filer, questionable refund program, abusive return preparers, and identity theft. Crossover between tax and non-tax crimes is common.

Fisher Syndicated Conservation Easement – 3/1/2022

A federal grand jury returned a superseding indictment on Feb. 24 charging seven individuals with conspiracy to defraud the US and other crimes arising out of their alleged promotion of fraudulent tax shelters and $1.3Billion in alleged false tax deductions.

Kingston Investigation – 3/16/2020

A federal jury convicted a California businessman of criminal charges related to a $1 billion renewable fuel tax credit scheme. The individual used his company as part of a conspiracy to corrupt the biofuel tax credit program in an effort to steal over $1 billion from taxpayers and to launder the proceeds of this fraud.

Brockman Investigation – 10/15/2020

The

CEO of an Ohio-based software company

, was indicted with tax evasion, wire fraud, money laundering, and other offenses. The charges stem from an alleged decades-long scheme to conceal approximately $2 billion in income from the IRS as well as an alleged scheme to defraud investors in the software company's debt securities.
The IRS-CI is a busy place. If you believe you have caught the attention of the IRS, speak with an experienced criminal tax attorney soon in order to try and avoid becoming another one of their cases.
Skilled tax attorneys help you in Ohio and Illinois
With offices in Cleveland and Chicago, the legal team at Robert J. Fedor, Esq., LLC offers help with tax controversy, offshore tax matters, compliance issues, and guidance with business bankruptcy. Contact us today or call 800-579-0997.