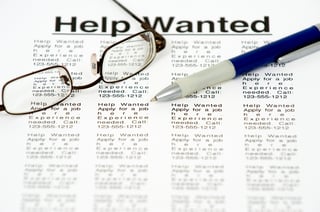 For someone whose business is finding people jobs, this businessman didn't do too well keeping his own job. A Tennessee business operator of a temporary staffing company was convicted of conspiring to defraud the United States, failing to pay over employment taxes, filing fraudulent employment tax returns, theft of government funds and aggravated identity theft.
From the Department of Justice press release:
According to the evidence presented at trial, from 2005 through 2015, Mark Stinson and his wife, Jayton Stinson, operated a temporary staffing company in Memphis that provided services to businesses in Tennessee and elsewhere. The staffing company's standard contract with its customers provided that the staffing company was responsible for withholding employment tax from its employees' wages and paying over the amounts withheld to the Internal Revenue Service (IRS).
The Stinsons failed to pay over $2.8 million in withholdings and other employment taxes due to IRS, failed to timely file employment tax returns and filed false employment tax returns. In an effort to avoid making payments to the IRS the Stinsons changed the name and structure of the company multiple times after accumulating employment tax liabilities, operating as Jayton Stinson Connex Staffing & Janitorial Service, Connexx Staffing Services LLC, Connexx Staffing Services Inc., and Complete Employment Agency.
The Stinsons also conspired to impede efforts by the IRS to collect on the employment tax liabilities owed by their companies. For example, the Stinsons made false representations to the IRS about their control of the staffing company and their knowledge of their responsibility to truthfully account for and pay over the employment taxes, placed the staffing company in the names of nominees who did not have control over the business operations, and established payment arrangements intended to impede an IRS levy placed on their customer payments. The Stinsons used the withheld funds to pay for personal expenses, including a Mercedes-Benz, a Cadillac Escalade, mortgage payments and private school tuition for their children. Jayton Stinson previously pleaded guilty to conspiracy charges in connection with this case.
Mark Stinson also filed a fraudulent tax return for a relative that included a false dependent seeking a refund to which the relative was not entitled. Stinson received a substantial portion of the fraudulent refund.
U.S. District Court Judge John T. Fowlkes, Jr. scheduled sentencing for March 1, 2018. Mark Stinson faces a statutory maximum sentence of five years in prison for each count of conspiracy, theft of government funds and failing to pay over employment taxes, three years in prison for each count of filing a false tax return, and a mandatory two years in prison for aggravated identity theft. He also faces a period of supervised release, restitution and monetary penalties. Jayton Stinson is scheduled to be sentenced on Jan. 31, 2018.
Failure to pay employment taxes can result in major charges from the IRS. Business owners that need to discuss the details of their circumstances with a tax law firm experienced in resolution of delinquent payroll taxes can trust Robert J. Fedor, Esq., L.L.C. with tax attorneys in Chicago and Cleveland offices. Our IRS tax lawyers can answer your questions and take actions to protect you and your business from criminal charges.