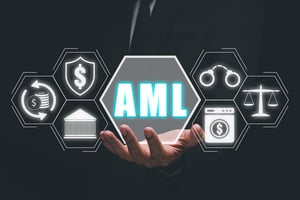 Once again, Deutsch Bank finds itself in the U.S. Federal Reserve's gunsights for its failure to fix its anti-money laundering (AML) practices. This time, it is costing them $186M.
According to a press release from the Federal Reserve Board, the fine stems from the German multinational investment bank and financial services company's "unsafe and unsound practices" related to "sanctions compliance and anti-money laundering controls."
This is the third time that Deutsche Bank has been hit with massive fines by the Federal Reserve. It brings the total penalties leveled by the Fed to $285 million for deficiencies in AML and sanctions control. Much of the most recent fine is linked to Deutsche Bank's role in the Danske Bank Estonia money laundering scandal, as Deutsche Bank lacked adequate BSA/AML internal controls during the period from 2007 until the end of the relationship with Danske Estonia in 2015. During that timeframe, Deutsche Bank "cleared more than $267 billion in transactions for Danske Estonia, a significant portion of which involved high-risk non-resident customers of Danske Estonia."
Though the U.S. regulator stated that Deutsche Bank has made some progress toward corrective actions, their U.S. operations still remain "exposed to heightened levels of compliance risk." This includes a concern that there is a "risk of failing to detect money laundering activity or U.S. sanctions violations."
The U.S. Federal Reserve seeks compliance of Office of Foreign Assets Control (OFAC) and AML orders, including improvement in systems and data supporting transaction monitoring, especially in "respect to higher risk business lines;" establishment of a framework for monitoring transactions to complete effective AML risk identification and analysis and improve investigative processes; and implementation of a customer due diligence program. Finally, the Feds require that Deutsche Bank completes a satisfactory OFAC review.
Given the list of compliance tasks handed down by the Federal Reserve Board, Deutsche Bank has its work cut out for it. In response, Deutsche Bank stated "We are committed to maintaining robust risk management programs with a special emphasis on Anti-Financial-Crime and Compliance controls. The Written Agreement and the Consent Order with the Federal Reserve relate to our historic tardiness in adhering to older enforcement actions and agreements, as well as a correspondent banking relationship we exited in 2015."
Given the number of fines they have faced from regulatory agencies and prosecutors for a host of violations including AML, enabling tax violations, bribery, price fixing and the sales of toxic mortgage products, Deutsche can not afford to run afoul of the Fed again.
Having said that, it seems like their renewed efforts at cleaning up their act is paying off: Deutsche Bank's reported first-quarter earnings for 2023 were their highest since 2013.
Learn more about how you can avoid regulatory issues
In the ever-changing regulatory landscape, your business needs a partner who can help you get through legal hurdles and keep in compliance. The tax group at Robert J. Fedor, Esq., LLC provides solid strategies and vigorous representation for businesses and individuals regarding regulatory, tax, and criminal defense concerns from our offices in Chicago and Cleveland. For more information, contact our office or call us at 800-579-0997.